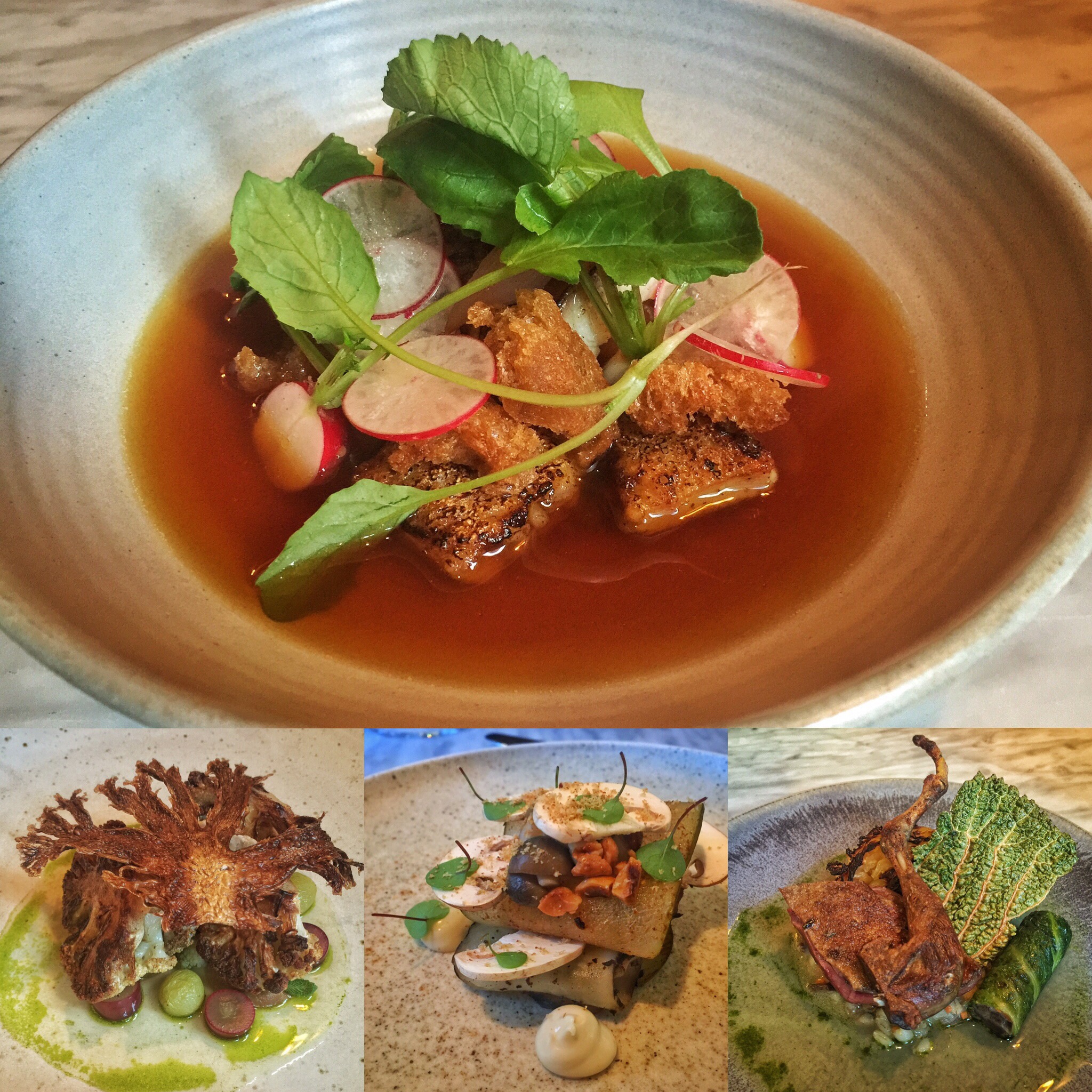 Like so many others Lee Westcott's cooking skills came to our attention through BBC's Great British Menu. After watching him cook I knew we had to try his food; and that's a funny thing: to decide you want to eat somewhere because of watching the chef cook on tv. Television offers no accurate feeback to make an informed decision on whether food is good to eat, so one learns to rely on visual clues: not just how the food looks but also how (in the case of GBM) the Judges Pru, Matthew and Oliver (along with the guest judge, the mentor and,of course, probably most importantly the competing chef) react to each dish. You can eat with your eyes, if you know where to look. Our booking was for lunch on a Saturday. The restaurant, located in the rescued and renovated Bethnal Green Town Hall (now a hotel) is of a modest size, seating around 40 or 50 guests. It's light and airy and understated in its decor. The chairs are simple but comfortable, reminiscent of 50s Scandinavian design. Initially when we were seated we felt that the service was lacking, like they were distracted by something else or we were early and they were still tuning up. The waiter asked us if we had any allergies or preferences so my wife, Miko, asked about the provinance of the meat to which our server surprisingly didn't know how to answer; the maitre d came over to inform us that it was all sourced from reputable farms and told us that they get asked this all the time, but though we felt reassured we didn't feel that it was a strongly rehearsed line; if I would make one suggestion it would that they get everybody in the restaurant up to speed for this question - have the names of farms, suppliers and accreditations ready because the more information you can pass on at this point the better. Happily this was the low point in the service, once the ordering was done it got a lot better.
The menu offers two choices and within those choices are two options : a lunch menu of 2 or 3 courses or a tasting menu of 5 or 7 courses. We both opted for the 5 course tasting menu (keeping an eye on the optional courses available along the way).
The first course was simply described as "Snacks" and with the arrival of the first one any worry or concern about our choice of restaurant melted away...
Snack 1: Onion Bhaji, yoghurt and mango chutney. This was crisp and light, the Bhaji itself was like a brandy snap filled with light & creamy yoghurt, the bottom of the bowl containing the best mango chutney you will ever eat. Perfectly balanced and seasoned. (sorry for the lack of focus in the shot)
Snack 2: crispy fish skin cod, oyster and dill. Another perfect bite. Though sadly the only way I describe it is a like a fishy cheesy quaver which I know sounds revolting but trust me it's not.
Snack 3: Squash, curd, apple & lardo. Mine (in front) came without the lardo because of my pork intolerance and without this was a sweet & light; almost dessert like but still very pleasant, the lardo added a salty savoury element but did make it difficult to eat with the teaspoon provided.
Pig's head & smoked apple (left) carrot and parsley (right). Miko's face when she bit into this parcel was a delight. The perfectly fried crispy skin and beautifully balance filing were her favourite snack of the day (maybe the whole meal). My carrot was fresh and beautifully seasoned and didn't feel like a second place alternative as many vegetarian dishes can do.
And that set the tone for all that was to follow: each dish was exceptionally well crafted, beautifully presented, skillfully proportioned and the pacing was excellent. So to stop you getting bored of me running out of superlatives I'll let the photos do the talking and I'll try to keep my commentary to a minimum:
Freshly baked IPA sourdough bread with marmite and pearl barley butter. I'm no fan of marmite but this was excellent. This was served as a separate course and though intended to compliment the later dishes, was robust enough to stand on its own.
Celeriac, pear, fermented mushrooms & hazelnut. Fresh, seasonable with a surprising complex melody of mushrooms that were accentuated by the smokey celeriac and sweet pear.
Yeasted cauliflower, raisins, capers & mint. A signature dish and deservedly so. It's refreshing to see a vegetarian course take centre stage like this. It was spectacular.
Smoked eel, chicken, radish & bread consomme. This was an optional course which, being a huge eel fan I had to try. The bread consomme (based on the same soughdough we had already tasted) reminded me of miso with its sweet fermented flavour.
Pigeon, cabbage, barley & parsley. The traditional "main" dish of selection which if I'd had it as a Sunday lunch with some nice spuds and maybe some of those carrots I would've been singing its praises but because of the elevated levels of cookery prior to this course (especially in the last two dishes) it felt a bit flat, but to be honest my palate enjoyed the break.
Cheese selection, spiced pear chutney & bread. An optional course which my wife and I split. All were excellent but I didn't catch their names which is a shame because it was a great selection, each cheese representing their own realm so well it was difficult to pick a favourite, however the most memorable was the blue which was rich and creamy and finished with what I can only describe as a walk through a farm yard; I could taste wet grass, hay and smell cows coming into be milked; it was sensory cheese, invoking strong memories of the dairy farmyards where, as a child, I walked our family dog.
A palate cleanser of lemon sorbet, apple (?) mousse and salted hazelnut pieces. You had to get all of pieces on the spoon for this to work otherwise the balance felt off, but when got it right it delivered.
Chocolate & passion fruit. The only real low point of the meal: the milk chocolate mousse was lovely but struggled against the acidic passion fruit, which set my jaw off and made my teeth ache with sourness. I couldn't get the mix right so gave up and just ate the mousse.
With our coffees (and a curious but delightfully light smokey Japanese port which was an exceptionally pleasant way to end lunch) came three delightful petit fours, the one on the right was a red berry and star anise jelly, the middle a dark chocolate, mashmallow and biscuit bonne with a light touch of lime (like an exceptionally classy tea cake) and the left was hazelnut truffle. All were excellent and a perfect way to finish the meal.
So you might be thinking I enjoyed this meal. Well you'd be wrong: I ADORED it! It's possibly the best selection of haute cuisine I've been privileged to experience. Not just because it tasted good, but for so many other reasons: the pacing (total time at the table was just under 3 hours), the plating (seriously - go back and look each of those dishes, touches like serving the warm bread on a bowl of warm grain was touching, artistic and practical), the freshness of the ingredients, the seasonality, the seasoning, the clever blending of flavours, each one adding to each dish, never hiding always elevating it to somewhere close to perfection (and somewhat reminiscent of Japanese cuisine, somewhat underpinned by the lack of potato). Lee Westcott is a genius and deserving or much greater plaudits and accolades beyond my humble blog; it needs a Michelin star and it needs you to eat there before it does because once it gets recognised, you won't get in.
I should also mention the sommelier who did an excellent job of guiding me through the wine choices and the excellent aperitif cocktail from "The Peg & Patriot" bar next door. And now the damage: two five course lunches with two additional courses (1 serving each, shared) two glasses of wine, two bottles of water, two mocktails, two coffees and an extraordinary glass of port came to around £220 and with a 12.5% tip brought the total bill to just under £250 and it was totally worth it. If you go back and count the pictures it comes to 13 different plates of food.
I can't wait to see what he does in the summer...
Flickr set https://www.flickr.com/photos/61346897@N00/sets/72157661797230603